*Check me out on
Cafepress
and
Etsy
.
Gift cards are how I keep track of how much I spend on books a month. If I added $20 to my gift card, once that balance is gone, I am done buying books for the month.
If an Amazon link is in a post, it is an affiliate link. Other relationships will be stated if there is one.
If you have shopping to do on Amazon, click on their logo below. It won't charge you anything, but it helps keep this site up and running and pays for the giveaways I do here and on my Facebook page. Thank you!
Happy release day Magan!  I love the yellow hue to this cover!
Cannot wait to read this one!
Author: Magan Vernon
Age Group: NA
Genre: Contemporary Romance
Release Date: 8/25/14
The sequel to the international hit, The Only Exception.
A boy burdened with a family legacy.
A girl haunted by a shattered past.
Both searching for answers to a future threatened by the unknown.
Three years ago, conservative Trey Chapman and liberal Monica Remy met their match in one another – and made the only exception that would change their lives forever.
Now, Trey's father is running for president, forcing Trey and Monica to put aside their personal beliefs to be the model of perfection.
But fate has other ideas, casting the family in scandal.
Some seek to use that disgrace to further their family legacy, while others refuse to let go of the past. Trey and Monica soon find themselves lost among questions that challenge their true feelings. Will they be able to rediscover that the only answer lies with one another, or will they lose each other forever?
Purchase The Only Answer by Magan Vernon
Kindle|Nook
After reading The Only Answer I have decided I have no political aspirations, nor do I want to be a part of a family with politicians.  We know what it's like, they always have us watching, everything is reported, good or bad or completely fabricated.  I'm one of those people when I see stuff coming from either of the aisle on Facebook, I have to look it up and see if it's true, and if it's not, I must report back.  It drives some a little crazy that I won't let them live happily in their propaganda filled world, but misinformation is a pet peeve of me.
Which really has nothing to do with the book, other than I was thinking about the lives politicians and their families must live, always under a microscope, the whole time I was reading.  Understanding how Trey felt as the son of someone running for president, always needing to be perfect, only letting a certain demeanor show in public, and now Monica has to do the same.
That's where Trey and Monica are, under the microscope, because his father is running for president.  Will it make their relationship or will it break them?
They are put to the test multiple times over the course of the book and I wasn't sure if they were going to make it.  I can't tell you if they did or not because spoilers suck.
I haven't read the other books in the series yet, but I can say that I did fine reading this without them, though I really want to read them next.  I wasn't lost at all not knowing the history.
Another great big from Magan Vernon.  I really enjoyed it and cannot wait to see what is coming from her next!  Can I put in a request here and say I hope it's the next book in the Hopeless in Hot-Lanta series? 😀 <3
Thank you so much for my copy of The Only Answer!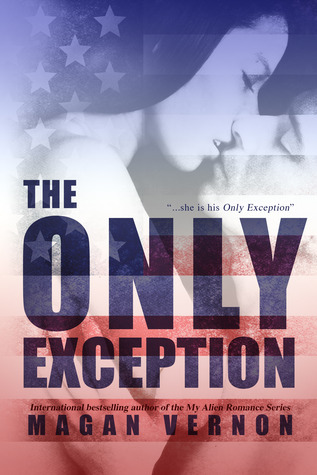 Purchase The Only Exception
Kindle|Nook
Purchase The Only One
Kindle|Nook
Magan Vernon is a Young Adult and New Adult writer who lives with her family in the insurance capital of the world. When not writing she spends her time fighting over fake boyfriends via social media. You can find her online at www.maganvernon.com.
Not Everyone's Mama
Liked that? Read these: