*Check me out on
Cafepress
and
Etsy
.
Gift cards are how I keep track of how much I spend on books a month. If I added $20 to my gift card, once that balance is gone, I am done buying books for the month.
If an Amazon link is in a post, it is an affiliate link. Other relationships will be stated if there is one.
If you have shopping to do on Amazon, click on their logo below. It won't charge you anything, but it helps keep this site up and running and pays for the giveaways I do here and on my Facebook page. Thank you!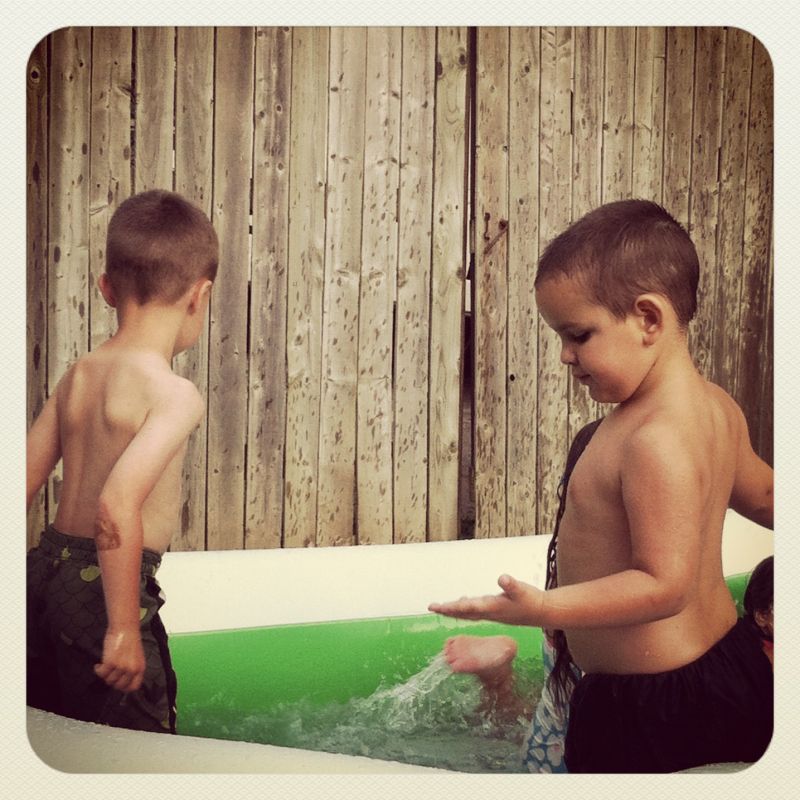 Nano (right) and his cousin Carter enjoying the water at their cousin baby Aiden's first birthday party.
I got smacked in the face with the fact that we are on the downward side of summer vacation.


Subject line of an email I got yesterday
Seriously.
Didn't I just post that it was the last day of school? I swear that was just last week.
I'm not ready to start setting my alarm for 6:30 AM everyday. I'm not ready for bedtime battles and fighting to get my 13 year old of bed and off to school (hopefully) on time.
I want more swimming, more time at the aquatic center, more late nights, more having family time at my mom's, more sleeping in.
I do have one question. Why is our school racing to start with the Iowa State Fair? It seems like the fair moves up a bit and then the starting date of school moves up each year. I think they think they are sneaking this in a few days earlier each year little by little and they think we aren't noticing. We are. And every parent I have talked to thinks it's …… well, to put it oh so eloquently, we think it's stupid.
Remember the days when we went back after Labor Day? And then it moved up and we went back, had a couple of days of school, then a nice long 3 day weekend to help us break into the school year.
Now they are going back in the middle of August.
Why?
What was wrong with letting them enjoy all of August, the whole fair (the fair is a big thing in Iowa), before making them go back to school?
I don't know when the rest of the school districts around us go back, but I'm ready to have a revolt. Can I just refuse to send them until September on the principle that I think they should be able to enjoy the whole fair and the fact that it is still so stinking hot here in the middle of August?
Probably not.
I'm willing to trade getting out during the first week of June (since we are used to that) with going back at the end of August.
Mr Superintendent and school board members who come up with this (in my opinion, completely asinine) school year calendar, what is your counter offer?
180 days is 180 days no matter how you slice it, so go back to the schedule where kids' actually get to enjoy the fair. Personally, I don't care for the heat, the sweat, and the bees, but my children and all the other lovely children of Iowa love it, let them have that before getting them back to working too hard and having no time to be children because you pile so much on them. I don't know about other Iowans, but if their kids are like mine, the kids (and plenty of their parents) look forward to this all year.
Thank you.
Totally didn't intend for this to turn into a pro-fair post, but I want my fair fudge man! With Pato's work schedule, them going back early leaves us with one day to enjoy the fair as a family. I remember when I was younger, we would go to watch my grandpa, uncle, and cousins compete in horseshoe pitching (I did say Iowa State Fair, right?). I loved going and watching, and eating, and riding the rides, and drinking root beer.
The whole point is let them have all of August. It's too hot, there's too much fun to be had still.
Stop changing things.
And while I am sounding like an old man griping about change…. Back in my day… I don't like registering for school online. I want my paper packet that I can sort through, fill out, and organize by child.
I'll deal with online registration but I'm still ticked about starting in the middle of August.
Summer hating, fun stealing, child pushing school board type of people that you are anyway.
This post in no way represents the opinions of all Iowans, just mine. Unless all of Iowa leaves a comment saying they agree. 🙂
Liked that? Read these: