*Check me out on
Cafepress
and
Etsy
.
*Need to earn more money from your blog? Check out
SocialSpark
and
Escalate Network
*
Sponsored Tweets
is how I get paid on Twitter.
Gift cards are how I keep track of how much I spend on books a month. If I added $20 to my gift card, once that balance is gone, I am done buying books for the month.
If an Amazon link is in a post, it is an affiliate link. Other relationships will be stated if there is one.
If you have shopping to do on Amazon, click on their logo below. It won't charge you anything, but it helps keep this site up and running and pays for the giveaways I do here and on my Facebook page. Thank you!
This is a Sponsored post written by me on behalf of Vectra flea & tick control for SocialSpark. All opinions are 100% mine.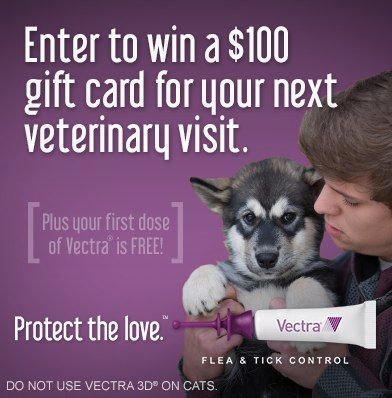 We have lots of furry and feathered friends around our house. It's a zoo with 2 dogs, 2 cats, 4 birds, and 4 of the human 2 legged variety kidlets.

Elaina
I worry about the animals just as much as I do my kiddos.  They're part of our family, why wouldn't I?  I feed them the best food I can get them, for some of them I cook, I keep them all up to date on vaccines and heartworm treatments, and I make sure they are protected against fleas and ticks. 

Suki and my oldest
Not only do I want to protect my pets, when they love of on my kids this closely,
I want to protect my kids too.
Ticks freak me out.  They always have.  I don't care if we don't live in the timber, I don't take chances with them. Fleas either.  I don't want fleas attacking my furry animals, biting my kids, or jumping into my birds' cages.  Ugh.

Damon
That's where Vectra Flea & Tick Control comes into play.  They help us protect the love, that unconditional love we get from our four legged friends who rely on us to keep them healthy.

My baby, Junie Bee
Anywhere in the country, it's always possible for fleas, ticks and other dangerous blood sucking parasites (my words, not the vets) to infect your dog. It really does only takes one bite to potentially spread disease.
Vectra Facts:
Fast-Acting – It kills through contact; parasites don't have to bite to die. It begins reducing flea feeding in 5 minutes and kills fleas in 6 hours.
Broad Spectrum Protection – It repels and kills fleas, ticks, mosquitoes,biting and sand flies, and lice and mites(excluding mange mites). It also kills adult fleas and prevents the development of all immature stages of fleas: eggs, larvae and pupae.
Long-Lasting – It remains effective after bathing and swimming and protects for 1 month.
Convenient – You can protect your puppies as young as 7 weeks of age and it's patented applicator makes it super easy to use.
Vectra is having a Protect The Love Sweepstakes on their Facebook page. You can enter to win a $100 gift certificate to use towards your next vet's visit and each entrant can print out a coupon code to get a free dose of Vectra flea & tick control at their vet's office.
**Do not use Vectra 3D on cats.
Connect with Vectra
Website|Facebook|Twitter
Protect The Love Sweepstakes
Liked that? Read these: