Her Name Was Jyoti Singh Pandey
*Check me out on
Cafepress
*Need to earn more money from your blog? Check out
SocialSpark
,
Giveaway.ly
and
Escalate Network
*
Sponsored Tweets
is how I get paid on Twitter.
If an Amazon link is in a post, it is an affiliate link. Other relationships will be stated if there is one.
If you have shopping to do on Amazon, click on their logo below. It won't charge you anything, but it helps keep this site up and running and pays for the giveaways I do here and on my Facebook page. Thank you!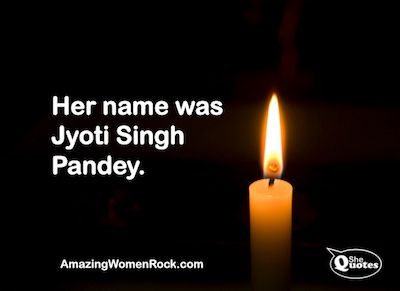 Photo courtesy of Amazing Women Rock
And her father wants the world to know her name.
What I will never understand, besides that brutal horrific rape that killed Jyoti, is that people would dare to blame then victim.
Raise your voices and let the world know that rape will not be tolerated and that it is NEVER the victims fault. NEVER!
Rest in peace Jyoti and I pray that justice is served.
Liked that? Read these: