*Check me out on
Cafepress
and
Etsy
.
*Need to earn more money from your blog? Check out
SocialSpark
and
Escalate Network
*
Sponsored Tweets
is how I get paid on Twitter.
Gift cards are how I keep track of how much I spend on books a month. If I added $20 to my gift card, once that balance is gone, I am done buying books for the month.
If an Amazon link is in a post, it is an affiliate link. Other relationships will be stated if there is one.
If you have shopping to do on Amazon, click on their logo below. It won't charge you anything, but it helps keep this site up and running and pays for the giveaways I do here and on my Facebook page. Thank you!
I have to apologize for being so bad about posting lately. Normally, the holidays are when I really have a lot to say, and I'm sure I do still, but without my computer (it'll be back soon the repair guy has it) I've just been feeling blah about blogging. I blog from my iPad and iPhone and though it works, there are times that I just don't feel like going back and forth between apps to get links to pictures, back to another to get a link, into WordPress to post. I'll admit it, feeling a bit lazy. And my wrist has started bothering me from using my iProducts so much. I just miss the easiness of my computer.
Alas, my blog does not post on its own (unless I schedule it), so I must get past those excuses and blog, cuz I love my blog.
On to cooking with kids.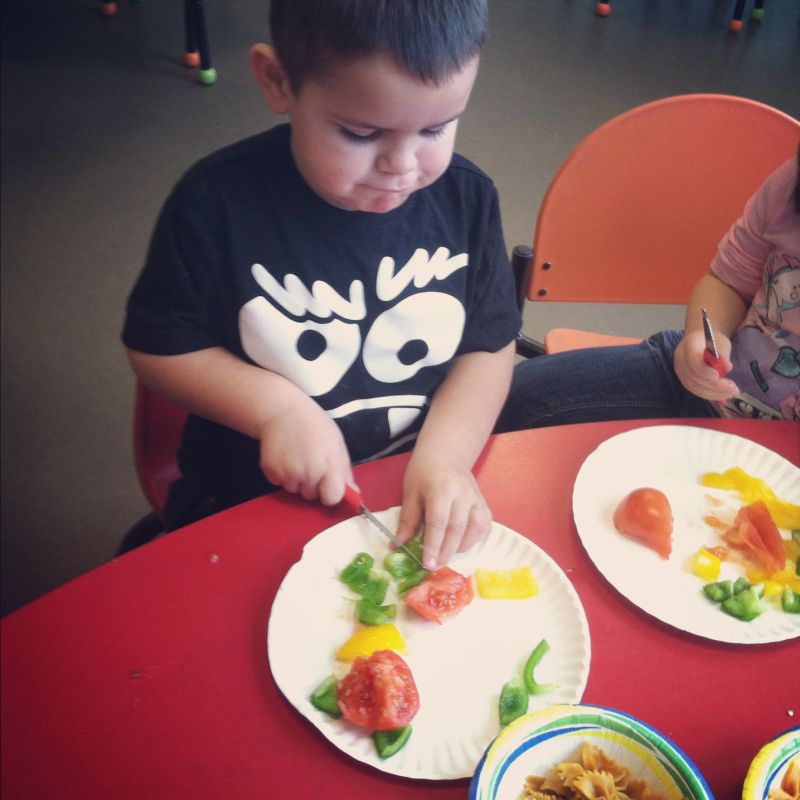 Nano concentrating deeply
I can't say Nano actually ate this. He did thoroughly enjoy making it though. It's colorful and healthy so if you can get yours to eat it, YAY! Otherwise, I guess your child could make lunch for you?
Ingredients:
cooked pasta – whole wheat would be good
green pepper
yellow pepper
tomato
black olives
Italian Dressing
kid's knife
Cook the pasta before hand.
Slice each of the veggies in half if you have a preschool aged kid so it's easier to work with. Older kids could probably do all the cutting them self.
Hand over the ingredients to your kid to cut up for themselves. That's Nano's favorite part of any cooking activity and the only way to keep him from wondering away and dragging out every toy the Y has.
Let them throw the cut ingredients and some olives on top of their bowl of pasta, that is if the olives survived being crowns for their king and queen fingers and if they weren't eaten because they are the only part of this recipe your kid likes.
Have them drizzle some Italian dressing over the whole thing.
They will love the mixing up part.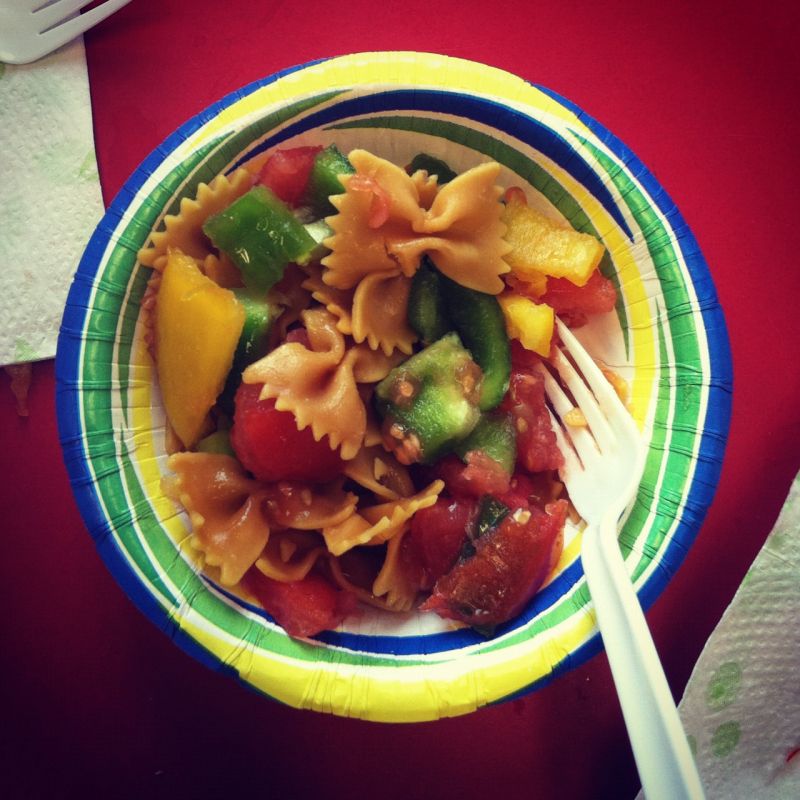 Notice the lack of olives?
Tell them to dig in.
Enjoy your lunch after you make them a peanut butter sandwich because they turned their nose up at the veggies in this dish!
Liked that? Read these: