Jordan's team this year. Jordan is on the left looking down, thank you very much son.
I don't think I have posted one thing about soccer this season. That's really sad. One would think that with 3 kids in soccer and my coaching one of the teams that my posts would just be full of soccer stories.
Alas, they aren't.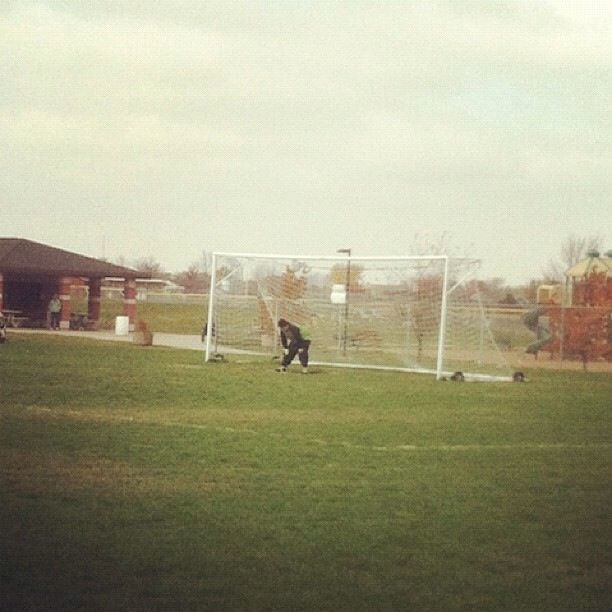 Jordan at goalie

Let me share my favorite moment this season.
Jordan has been playing goalie (like always) willingly (not like always) this season. He's good at it, but sometimes he surprises me.
One thing that Jordan does that I haven't seen many goalies in his age group do, and that he has been doing for years, is diving. He's willing to take those risks which is what makes him good at that position. He's been kicked in every possible body part, including once in the mouth, which caused an adult tooth to loosen. It did tighten back up, thank goodness, I was afraid he would lose it.
A couple of games ago he had this moment, one of those moments that make you jump out of your chair and have you screaming with joy. That parent pride just overflows and you can't help yourself.
The ball was coming towards him, actually, the player on the other team was coming to him with the ball. There were no fullbacks (defenders) between Jordan and this player.
Jordan took off, racing to the edge of the outer goal box. I was cringing because that left the goal wide open and it gave that player an easy shot at the goal if he got around Jordan.
Jordan got close, leaped the last few feet, landing on his side, rolled, and came up with the ball, then instantly booted it to the other side of the field. It was the most absolutely perfect save I have ever seen him make.
I was back in old cheerleader mode, both arms shot up in the air, and I swear, I almost popped a herky. It was amazing!
He got kicked in the head in the process, but I didn't know that until later.
He has had an awesome season himself as goalie. I am truly proud of that kid (like I'm not always proud of my kids).
We're preparing for an indoor season. His new coach put together a team for this next season. Jordan is excited because he likes playing indoor more than he does outdoor.
And he is playing basketball through the Y.
So is Katiana.
We'll see how this works out.
It can't be much more difficult than having 3 kids in soccer.
Have a great day!
Liked that? Read these: