*Check me out on
Cafepress
and
Etsy
.
*Need to earn more money from your blog? Check out
SocialSpark
and
Escalate Network
*
Sponsored Tweets
is how I get paid on Twitter.
Gift cards are how I keep track of how much I spend on books a month. If I added $20 to my gift card, once that balance is gone, I am done buying books for the month.
If an Amazon link is in a post, it is an affiliate link. Other relationships will be stated if there is one.
If you have shopping to do on Amazon, click on their logo below. It won't charge you anything, but it helps keep this site up and running and pays for the giveaways I do here and on my Facebook page. Thank you!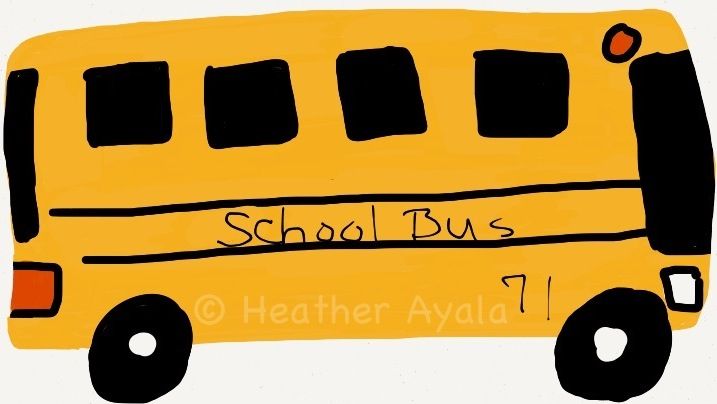 Don't laugh at my bus, I drew it with one finger.
It has been one of those mornings. Jordan was running late. The girls woke up fighting. Tears were shed. It's been so much fun!
When it came time for the girls to get on their bus they were running late too. Kat went out and said, the bus already left. Fabulous. I went outside, got in the car, and the bus drove by me.
I honked at the girls, they got in the car, and instead of taking them to school, I went after the bus.
Promise, I didn't speed. I kept it at a cool 15 MPH like it is posted where we live. I might have topped 17.
I caught up with the bus at the first stop after ours.
Me: Get out of the car and get on the bus.
Kat: I don't like this stop.
Me: I don't care. Get out of the car and get on the bus.
Kat: stares out the window
The bus headed to the next stop.
Me: Get out of the car and get on the bus.
Kat: I don't like this stop either.
Me: Katiana, get out of the car and get on the bus with your sister.
Kat: I don't want to.
Me: You don't have to stand in line with the kids, the bus is right there. Get on the bus.
The bus leaves and hits the last stop.
Me: Get out of the car and get on the bus.
Kat: I like this stop, it's Michelle's. Come on Alyce.
Me: Out the window through gritted teeth I love you, have a good day.
After a morning of fighting, I just wanted to hit my head on the steering wheel. I don't like this stop. I don't like that stop.
I don't care.
Thank you very much.
I was amazed that with all the "Mom! So and so did this. Mom! so and so did that. Mom! I can't find this! Mom! Kat broke my heart!" that I managed to remember it was spirit day and got my oldest 3 off to school all dressed in the purple and gold, ready for tonight's homecoming game.
Go Waukee! Beat Roosevelt! (Who I can't believe we play them now. When I graduated, we had 60+ kids in my class. Alyce, who is in kindergarten, has 762 kids in her class. Waukee exploded in the 19 years that have passed since I graduated in 93. Crazy!)
Waukee grads want to feel a bit of school spirit? Found our school song online!
Have a great day!
Liked that? Read these: