Sadly, I did gain that much weight.
I have battled my weight my whole adult life. At my heaviest I have weighed 248, at my lowest, 160. (That is since I can remember at about 24.) I'm 5'4″. Even at my lowest I still was above what I should be for my height. I still wouldn't complain about wearing a size 12 again and when I wore a size 12 I was happy.
Fast forward 4 kids and 13 years later and I am really not happy with myself. I'm not at my highest but nowhere near my lowest.
I was going down again up until a year ago when I injured my shoulder. Then the battle of the bulge began again. Two rounds of prednisone didn't heIp. I gained 30 lbs in a little over 2 months. I can't do the exercise routines I like any more because I am still limited by pain and doctor's orders. Walking bores me. Even the ballet DVD I bought because I thought, I did ballet when I was younger, loved it, graceful, no jarring movements, didn't work out. Raising my arms at all sent my bad shoulder into horrible cracking and pain.
So, I just ate less and less. That's hard to do when you are hypoglycemic. Still, I gained weight.
Fabulous.
Walking may bore me, but it's all I have right now. I'm sick and tired of my clothes not fitting so it is time to get down to business. Pato pulled out my treadmill from,the shed and today was the day I decided I was going to start.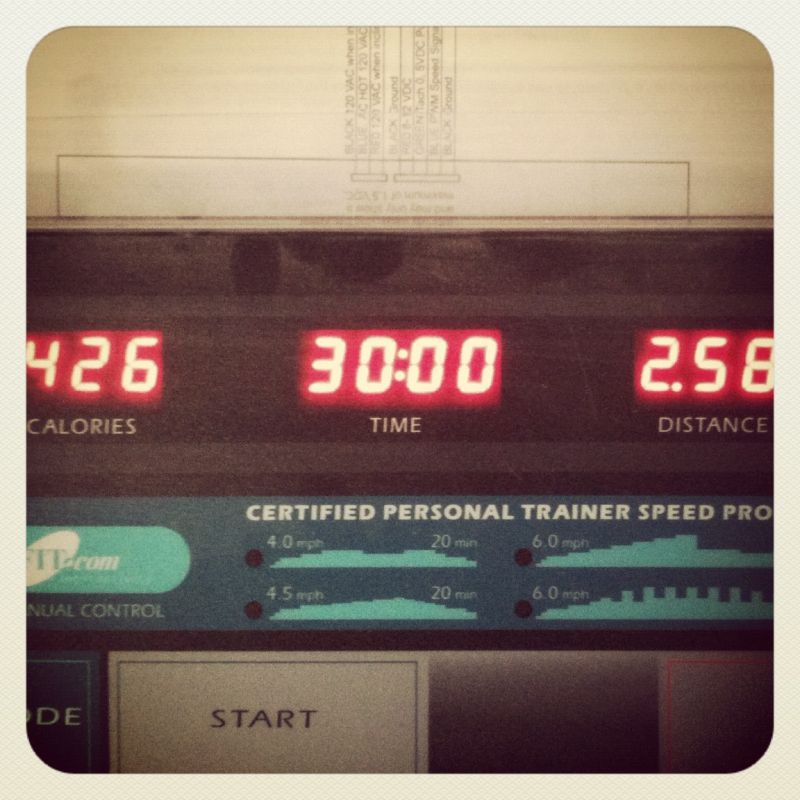 That's my first day. 30 minutes and 2.58 miles. I'm sure you guys could go longer, but you know I had on a full face of make up from Jordan's doctor's appointment and the sweat and make up was making my eyes burn and ….. That's my story and I'm sticking to it.
I kept my heart rate up to 142, kept the incline up.
Cross your fingers for me.
When you can't do all the fun exercises you like to do, like Zumba, it's hard to find the motivation to get going.
Here's hoping.
I'm going to start my days off with reading the Bible and then doing the treadmill. I'm one of those people who has to do things on a schedule. Once I put something off until later, later never comes.
Have a wonderful day!
Liked that? Read these: