I'm really trying hard to break my swearing habit and I was doing so good until I saw something today.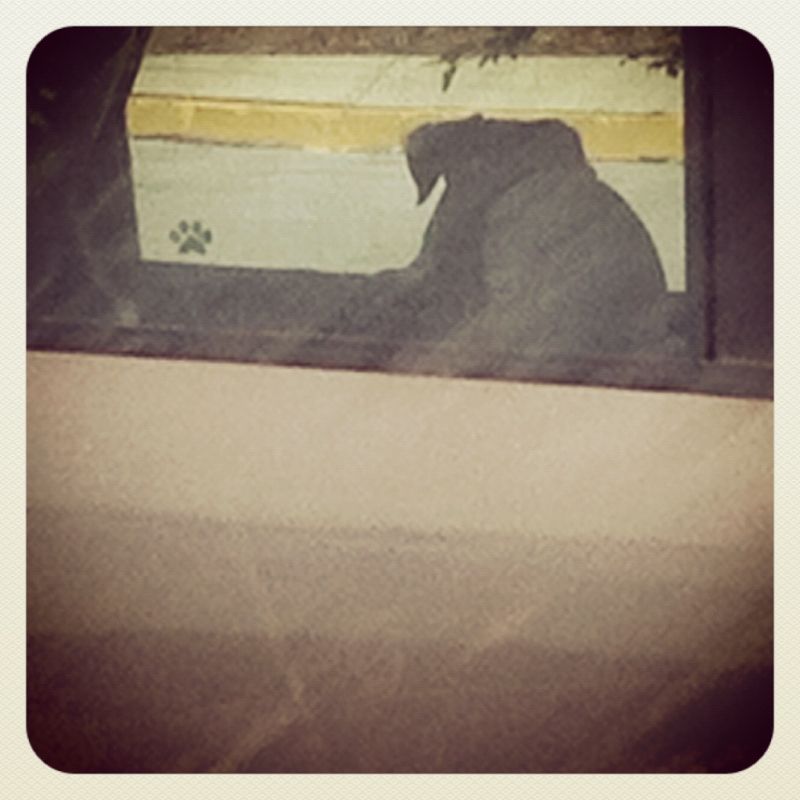 That, my friends, is a dog left in a car at…….
PETSMART
You can take your dogs into PetSmart.
Put a quarter in the jar. Mama's blood was boiling.
Public Service Announcement:
When the weather forecast looks like this –

LEAVE YOUR FREAKING DOG AT HOME
I pulled up to PetSmart to get my cats their Wellness cat food and saw that. My head just about exploded.
I marched in and told an employee, who, I kid you not, asked me if the windows were cracked in the car. Um, yeah they are, which actually makes the leftover cool air from the air conditioning leave the car sooner, causing the car to heat up faster…. Here let us have science class why don't we?
He came out and got the license plate number, which you have no idea how tempted I am to share.
I went in, heard them call the owner to the front, bought my cats' food, and headed back out to my car.
Surprise surprise, the dog is still there, panting away, trying to shove his nose through the crack in the window.
Oh to have had a brick in my car.
I waited. No owner in site.
Called the cops. They were already in route to PetSmart, an employee had called it in.
Waited until he got there and flagged him down. I told him how long I had been watching this car, pointed it out, etc.
He went over and tried the doors (which we already knew was locked). He felt the door on the car. I thought he was turning to get a slim jim out to unlock the door and let this poor dog out of the oven he is baking in.
Nope. He went into Pet Smart. Waited. Waited. Must not have been in there. I saw him walk over to Bed, Bath, and Beyond and go in.
Of course! She probably already took her dog into PetSmart and then thought, hmmmm. Bed, Bath, and Beyond. I'll just stick Fido here in my car on one of the hottest days of the year during an extreme heat warning while I go do a little shopping.
I am now vowing to get one of my landscaping bricks from my flower garden and start carrying it in my car.
Waited, waited, waited some more. This poor dog was wrenching his head to get as much of his muzzle out of the crack in the window as he could.
Finally, Mr Clive PD police officer comes out with Miss Tan Impala Driver. Do they go over and open the car and get the dog out of Hell? No. He stands there talking to her, probably explaining the dangers of leaving a dog in a car when the forecasted high is going to be 103F….. While the dog is STILL in the car. Suffering.
She looked so refreshed in her pony tail, shorts, and sunglasses, carrying her bag of goodies from Bed, Bath, and Beyond. Of course, she was in an air conditioned store buying frivolous things, instead of locked in a car with the temperature rising higher and higher with each passing minute.
Remind me that I am putting that brick in the car to break out a window when someone does something this stupid.
I didn't see her give the cop her ID, I didn't see him hand her a ticket (come on, she should have gotten that at the very least).
Know what she did when she got in the car?
No, she didn't check on the condition of her dog who had now been sitting in her car for 20 minutes at the very least (who knows how long he was in there before I got there) in this extreme heat warning that we are having.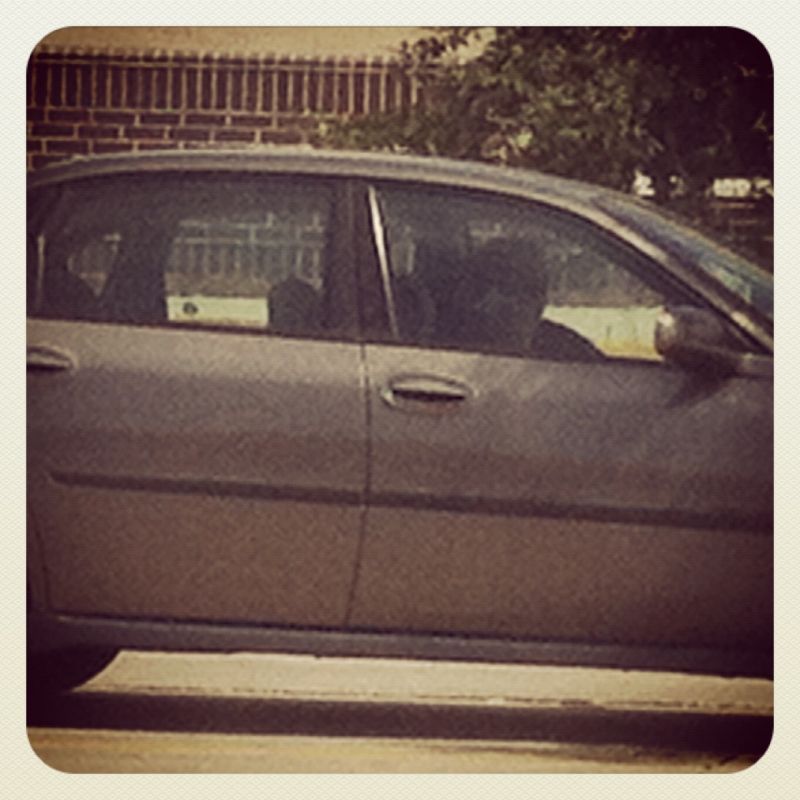 No. She got on her phone, probably to call someone to tell them about her horribly embarrassing experience. I hope they chewed her a new one.
Stupid stupid people. Common sense tells you that you don't leave ANY living being in a car in this heat. Have none of that? Turn on the news. They'll tell you every single time when they bring up the weather.
Heat inside a parked car can build, in just a few short minutes, to as much as 40 degrees above the outside temperature. For instance, on an 80 F day, temperatures in a parked car can reach 120 F in as little as ten minutes, especially if the car is in the sun.
Imagine the temp hadn't hit the high yet, we'll call it 94 since that's what my local channel is saying on it's website, though the bank I drove by later said 99 at that point. That's actual temp, not feels like with our 40% humidity. Add a possible, and I'm being generous with no shade, 20 degrees to that, 124 degrees at the every least. How long do you want to sit inside that for? In a fur coat? And you can sweat out of every pore in your body to regulate your temperature. I know that dog was in that car for at least 20 minutes.
What would Jesus do?
I think he would have broken the window and saved the dog.
I doubt he would have blogged about it later though.
It's a public service announcement.
Liked that? Read these: