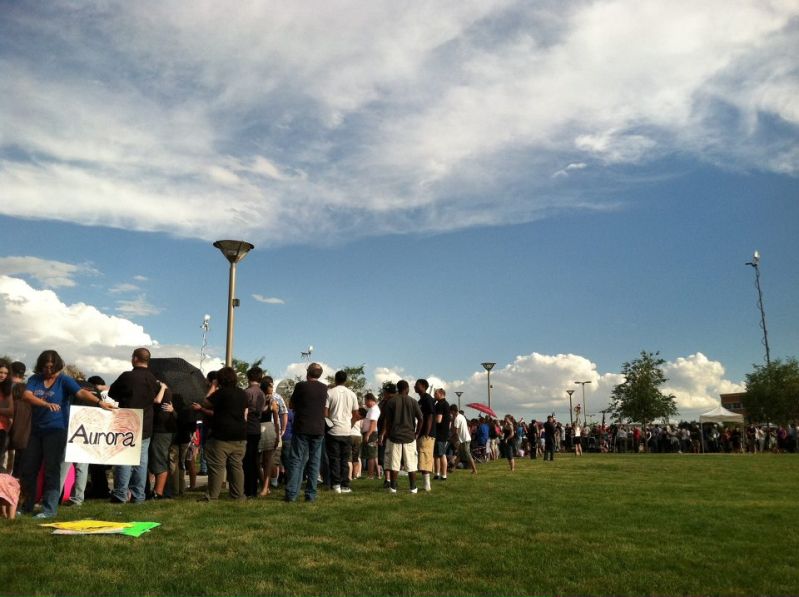 Image courtesy of Denver Comic Con
Aurora, Colorado, I wish I had been able to be there for your prayer vigil. I wish I could have stood there, blocking your mourners from evil. I wish I could have held your hands, and been there on bended knee praying with you.
Know that I am praying with you, for you from afar.
I thank all of you who formed a human wall between the mourners and the people who were celebrating in their grief.
After tweeting the wall will come crumbling down, they didn't get very close to the vigil at all.
I really shouldn't waste anymore energy than I did last night on the WBC picketers. I was so frustrated, disgusted, sickened, and yes, angry with the way they were using my God's name to do their own evil.
When you read things like this (followed by my own response), it is so hard to be slow to anger.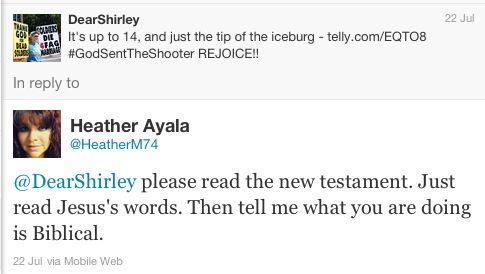 Romans 12:15 Rejoice with them that do rejoice, and weep with them that weep.
I feel like God has been been placing all of these verses about loving one another right in front of me every chance he gets. I don't know why. It's been a constant in my Bible reading and in my thoughts for a month or so. I'm either not doing something right in my own life or I am supposed to share them. Maybe it's both? I've been praying about what I am to do with these scriptures and I haven't received a clear answer, but maybe it was for a moment like this.
John 15:12 This is my commandment, That ye love one another, as I have loved you.
1 John 4:7 Beloved, let us love one another: for love is of God; and every one that loveth is born of God, and knoweth God.
John 13:35 By this shall all men know that ye are my disciples, if ye have love one to another.
John 15:12 This is my commandment, That ye love one another, as I have loved you.
John 15:17 These things I command you, that ye love one another.
And there are so many places where we are told to love one another. Find them here.
Matthew 7:1 Judge not, that ye be not judged.
2 For with what judgment ye judge, ye shall be judged: and with what measure ye mete, it shall be measured to you again.
And this popped into my mind last night when I heard about the "super picketers".
Matthew 7:15-29 15 Beware of false prophets, which come to you in sheep's clothing, but inwardly they are ravening wolves. 16 Ye shall know them by their fruits . Do men gather grapes of thorns, or figs of thistles? 17 Even so every good tree bringeth forth good fruit; but a corrupt tree bringeth forth evil fruit. 18 A good tree cannot bring forth evil fruit, neither can a corrupt tree bring forth good fruit. 19 Every tree that bringeth not forth good fruit is hewn down , and cast into the fire. 20 Wherefore by their fruits ye shall know them. 21 Not every one that saith unto me, Lord, Lord, shall enter into the kingdom of heaven; but he that doeth the will of my Father which is in heaven. 22 Many will say to me in that day, Lord, Lord, have we not prophesied in thy name? and in thy name have cast out devils? and in thy name done many wonderful works? 23 And then will I profess unto them , I never knew you: depart from me, ye that work iniquity.
I truly feel that hurting people in God's name is an evil act and as hard as it is, I pray for the people that are hurting and for the souls that are hurting them.
I don't know what God's plan is. I don't know the bigger picture. All I know is that people are hurting, souls are mourning, a horrible violence has been committed against them by someone who used his free will to kill people. Then you turn around and see a person who calls himself a pastor and his sheep who call themselves Christians preying on their grief, celebrating in it, calling out for people to rejoice.
John 8:7 So when they continued asking him, he lifted up himself, and said unto them, He that is without sin among you, let him first cast a stone at her.
I just have to hold onto my faith and know that he is with the mourners, carrying them through this time of grief and that he has a plan in place for all of us, even for those who rejoice in the shedding of innocent blood.
I also cling to the fact that my God, the one I serve, he is love.
1 John 4:7 Beloved, let us love one another: for love is of God; and every one that loveth is born of God, and knoweth God. 8 He that loveth not knoweth not God; for God is love. 9 In this was manifested the love of God toward us, because that God sent his only begotten Son into the world, that we might live through him. 10 Herein is love, not that we loved God, but that he loved us, and sent his Son to be the propitiation for our sins. 11 Beloved, if God so loved us, we ought also to love one another. 12 No man hath seen God at any time. If we love one another, God dwelleth in us, and his love is perfected in us. 13 Hereby know we that we dwell in him, and he in us, because he hath given us of his Spirit.

14 And we have seen and do testify that the Father sent the Son to be the Saviour of the world. 15 Whosoever shall confess that Jesus is the Son of God, God dwelleth in him, and he in God. 16 And we have known and believed the love that God hath to us. God is love; and he that dwelleth in love dwelleth in God, and God in him.

17 Herein is our love made perfect, that we may have boldness in the day of judgment: because as he is, so are we in this world. 18 There is no fear in love; but perfect love casteth out fear: because fear hath torment. He that feareth is not made perfect in love. 19 We love him, because he first loved us. 20 If a man say, I love God, and hateth his brother, he is a liar: for he that loveth not his brother whom he hath seen, how can he love God whom he hath not seen? 21 And this commandment have we from him, That he who loveth God love his brother also.
Aurora, Colorado you are continuously in my thoughts and prayers.
Sending all our love from Iowa.
ETA – Did a group of people who live for casting stones lie?
Liked that? Read these: