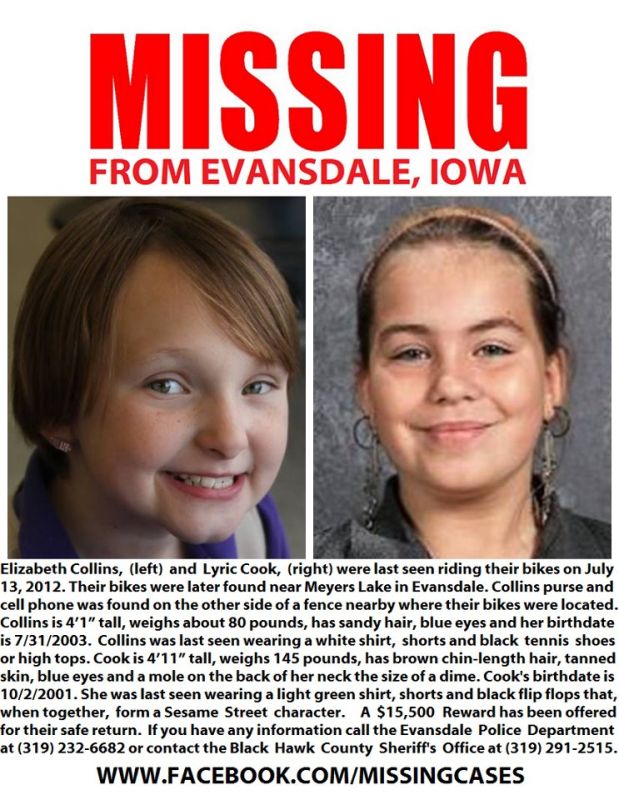 These two girls from Evansdale, Ia who have been missing for a week today have been on my (and everyone else's) mind a lot. Today this case has been FINALLY called an abduction. Finally. They have decided they aren't in the lake and they aren't lost, so now it's time to set up traffic check points in and out of town. You know, now that there has been time to get these girls out of the country.
I don't care what they say about guidelines regarding an abduction. These are 8 and 10 year old girls. They don't have the resources needed to be gone for long. If they were 16, yes, possibly run away. 8 and 10. I asked my 8 year old where she would go if she ran away from home.
The ice cream shop.
That is how an 8 year old thinks.
In the meantime, precious time is fleeing by.
I would be frothing at the mouth by now if these were my girls.
I've talked with my kids about what they should do if, God forbid, anyone ever try to take them. We go over it here and there and I thought tonight was an excellent time for a refresher course.
Then I thought I would share with you all. Maybe I covered something that you hadn't thought of and maybe you have some things you tell your kids that I hadn't covered with my kids.
They all know to run if they can. These scenarios are if someone gets their hands on them.
If someone tries to take them when they riding their bike:
First and foremost, in any of the situations, start screaming for help. Actually use the word help. If someone hears a kid outside screaming, they might just think that it's a bunch of kids playing around. Scream help. Someone is less likely to continue trying to take a kid if they are creating a scene then if they are quiet.
Do not let go of the bike. Hold on to it for dear life. It's much harder to lift a bike and a child into the backseat of a car or a trunk than it is to just throw a child in and go.
If someone tries to take them while walking:
Again, scream help over and over. Drop to the ground as dead weight (like their brother does when he doesn't want to get in his carseat) and start kicking and flailing your arms. Ever try to pick up a toddler who is throwing a tantrum? It doesn't get any easier as they get heavier and can fight harder.
If they are with their sibling and someone tries to take their sibling:
Scream for help. Wrap themselves around their sibling, holding on to each other in a tight hug, while doing the drop as dead weight thing.
In the car:
This only applies when my 13 year old is in the car with them. That's the only time I leave them in the car. Doors are locked. And that's only at the gas station where I can see and hear. If someone tries to get in the car, lay on the horn and don't let off. Period.
What happens when you hear a car horn? You look to see what is going on.
The theme here is to create a scene and cause people to look. Someone is less likely to continue on with an abduction if there is a good chance of getting caught right there at the scene.
This includes:
Someone threatening you with a gun, knife, etc.
There is a very small chance they are going to hurt you/kill you in the middle of the street. I don't care what they threaten you with, make a scene. There's a much bigger chance they will hurt you once they get you in a car and off somewhere alone.
Someone is threatening to hurt your mom (loved one) if you don't go.
I've taught my kids that this is said just to scare them and get them to go. I can handle myself and dad is not someone I'd want to cross. Do not listen. Scream and run.
Someone tells them I have been hurt.
They know that there are only 3 people I would send to get them in an emergency. That's it. If its not one of those people, do not go. They also know if I am not picking them up from school or they aren't riding the bus that I will call the school and tell them exactly what is going on and it always has to do with one of those 3 people.
Who is a stranger?
Someone MOM doesn't know. I don't care if someone has met you here or there, tells you it's ok, if I don't know them, they are a stranger and you do not go anywhere with them ever.
For my 2 with cell phones.
My oldest 2 have cell phones and a lot of it with me is a safety thing. They know that if, again, God forbid, anyone takes them that they need to turn their phones on silent. If its possible, dial 911 and just let it sit. Start asking where they are going, why did they take them, etc. Even if they can't call 911 there is a good chance that they can be found using their phones location. Just don't let the phone be seen or heard.
We went over a bunch of scenarios tonight, each of us asking the other what they would do in the above situations plus:
If someone told them that they had a puppy they could have, just go with them and they'll get it.
The old candy scenario. Katiana didn't quite pass because she said she would get the candy and run. No, do not stop and grab the candy. Turn and run.
I was really proud of them, they remembered most of what I had taught them. Besides the abduction of the girls, school is starting shortly, Alyce will be going off to kindergarten, and it's always a good time to remind them of what to do.
I know I left out a safe word for in case someone needs to pick them up, but we don't use that. They know that though I do trust my family with my kids, that there are only 3 people who would ever be called in to pick them up. And, even if there was an accident, someone would call the school with the news that so and so would be picking them up or that they need to ride the bus home and we'd take it from there.
I'm trying to think if I have left anything out that we cover, but I think that's it.
I just pray that it never happens and that if it does they can think quickly and remember what they have learned.
Do you have anything that you teach your kids that I have missed?
Liked that? Read these: