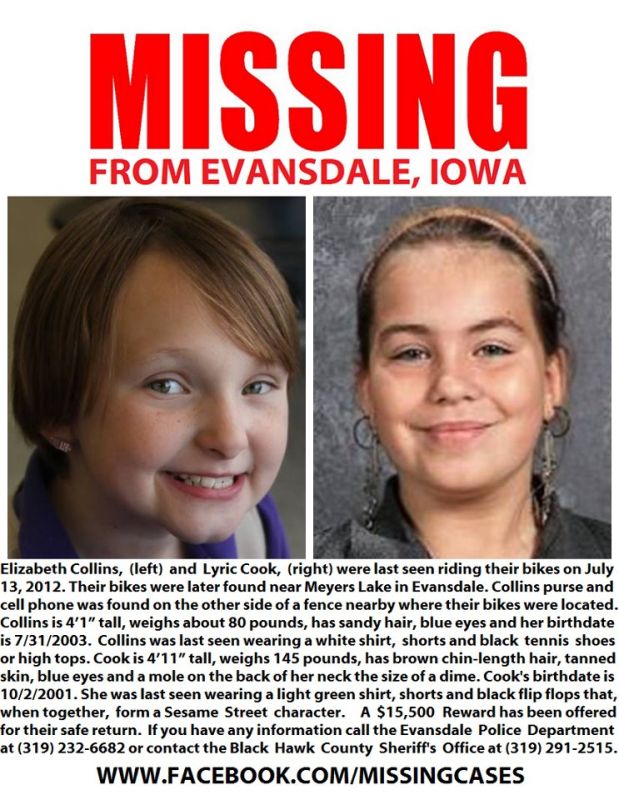 No Amber Alert For Missing Evansdale, Iowa Girls
8-year old Elizabeth Collins and 10-year old Lyric Cook both went missing just southeast of Waterloo in Evansdale, about two and half hours from the QCA. Now Iowa and much of the nation are looking for them, but without the help of the Amber Alert system.

Evansdale police have initially said there was no Amber Alert issued because foul play was not suspected in the girls' disappearance. It's unclear whether they still believe that. Today there is still no alert for these two girls, and it's unclear if there ever will be.
Personally if those were my girls, along with being terrified, I would be so angry right now. An 8 yr old and a 10 year old disappear on Friday, the nation is looking, but no amber alert has been issued.
I don't understand.
Tensions Rise As Search Continues
Lake and Landfill Searched
Girls Vanish, Officials Continue Search
Look at those pictures of them. Spread the word to everyone. Tweet, Facebook, get their faces out there.
Keep these girls in your thoughts and prayers.
I keep thinking of my 5 and 8 year old who are allowed to ride their bikes together (my 5 year old isn't allowed to ride anywhere by herself) down the block to a friend's house.
Just keep those little girls in your prayers and get their faces out there as much as you can please.
Then go hug your little ones and be thankful they are home sleeping in their beds where they should be.
Liked that? Read these: